Dark Wall Decorating Ideas
February 19, 2021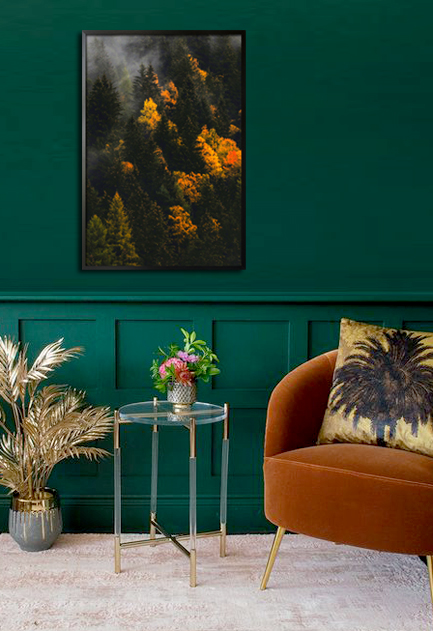 Dark walls are sophisticated and elegant looking. It may be quite challenging decorating the wall but with a few tricks, you will be able to create a room that is fun and exciting. Read on for more inspiration on how to decorate dark walls and make the interior look more compelling.  
Decorating the interior with dark walls
It is common to see walls that are painted with bright colors or with  . These colors reflect the natural light that can make the room appear larger. This is also true with dark-colored walls, however, instead of reflecting light, dark colors absorb light. It is also recommended to have decors displayed to make the interior look more refined and luxurious. Here are some tips on how to decorate your interior when you have dark-colored walls. 
Plants and other greens – studies have shown that plants, trees, and other natural elements can help give a calm and peaceful ambiance. Dark-colored walls tend to recede to the background making the plants the focal point of the room. In addition to these, plants give several benefits to health and the environment. 

Sculptural elements – these are among the popular trends these days. Examples are the curve of the sofa, flower vases, pots, jars, and the edge of the doorway. The colors of these elements should also contrast the dark walls for them to be conspicuous in your rooms. 

Large painting – the display of a large painting on a dark-colored wall is all you need to add drama and sophistication to your interior. This will likewise be the focal point of your room or space. It is also recommended for the painting to have a large white mat and a slim frame to contrast the dark walls. 

Trendy posters – poster prints in light and vibrant colors are great for dark-colored walls. Arrange them in a way that you will be able to create a wall gallery that will impress your family and friends. Framed posters are even more impressive as the frame as well as the neutral colors can be wonderful accents on the wall.

White and other bright colors – adding decorative items as well as furniture pieces in white and bright colors can create a dramatic effect on the room interior. White linen, bedding, curtain, and blinds work best in dark-colored walls. 
Poster prints for dark-colored walls
The display of posters is one of the easiest and fastest ways to add drama to your walls. Especially when displayed on dark-colored walls, the trendy posters will be the star of your home. Poster prints that feature plants and flowers can give an impression of having a mini forest when displayed on dark-colored walls. 
Abstract art is also best for dark-colored walls. They become more evident and visually appealing making them the focal point of the room. They also make the room look more sophisticated and elegant. Along with light-colored furniture pieces, the trendy posters can be the decor elements that will complete the overall appearance of your home.