Decorating The Walls For Christmas
February 19, 2021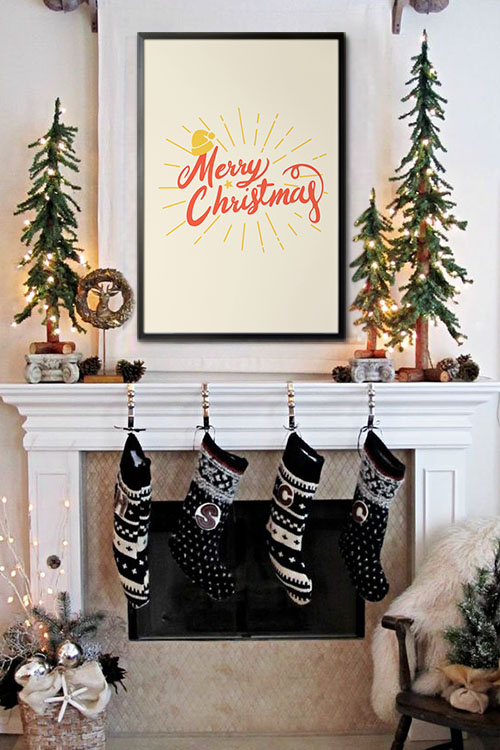 It is the time of the year again and time to open your storage and bring out the Christmas decors. It is also the time to find creative ways to decorate your home for the season. Preparing your home for the holidays need not be that extravagant and expensive so as not to empty your pockets. 
You can start with the planning of designing the walls as many ideas can transform their overall appearance. We have here some interesting ideas and inspirations that will help you and your family create a home that is festive and merry.
Simple tips to decorate your walls for the season
If you are running out of ideas for making the interior of your home appropriate for the holidays, you can always start with the walls. Of course, you can still display your Christmas tree and hang lighting and ornaments. Designing the walls will complete the festive vibe in your home. In addition to these, wall designs can bind everything together.
Here are some interesting and fantastic tips to bring the Christmas atmosphere to your home:
Traditional signage – the traditional "Merry Christmas" is always one of the decors that spark the interest of many homeowners. They come in various colors and different materials. 

Holiday cards – there are various cards for different occasions. Christmas cards are not only used to be given to your loved ones. They can also be used as wall decors when they become part of your bookshelves. 

Vintage accents – the addition of old keepsakes can be great accents on the walls. You can check any garage sales or antique shops for any cool and interesting vintage decor that can be upgraded to become Christmas wall decor. 

Christmas stockings – these are some of the traditional wall decors that have been used over the years. Kids are expecting that the stocking is filled with presents when Christmas day comes. 

Lighted tree wall hanging – displaying Christmas lights arranged like a Christmas tree is one of the ways to save space. This is efficient for homes with small spaces. Instead of displaying trees during the season, this is another smart option. 

Red ribbons – ribbons are popular every Christmas season especially the red ones. Adding these to the walls along with other adornments can bring the spirit of the season to your home. 

Tree branches – real branches of trees can give your home a rustic feel. As such, the interior will have a natural touch that can give an airy and comfortable vibe. Design them in wreaths together with greenery for eye-catching wall art.

Art with garland – pine cones and garlands that are draped across the artworks or posters can enhance the Christmas atmosphere in your rooms. 

Festive sign – a colored festive sign displayed above a fireplace or bool shelves can be inviting.

The shelves – do not forget to decorate the shelves. The shelves can be a good opportunity to display Christmas-themed decors.

Trendy poster artworks – the display of poster prints is one of the cost-efficient and easiest ways to bring the season to your rooms. There are a lot of designs to choose from and they can easily blend well with the other decors that you displayed. 
Final thoughts
Christmas is all about love and caring. Different countries have their respective ways of celebrating the season. The Philippines is one of the countries that have the longest Christmas celebrations. Many different decors can be used to make any room or space look fun and exciting. You can even decorate your home even if you are tight on the budget, With a little imagination and creativity, you will be successful with your Christmas decorating project.