DIY Wall Art Ideas to Style Your Home
September 7, 2022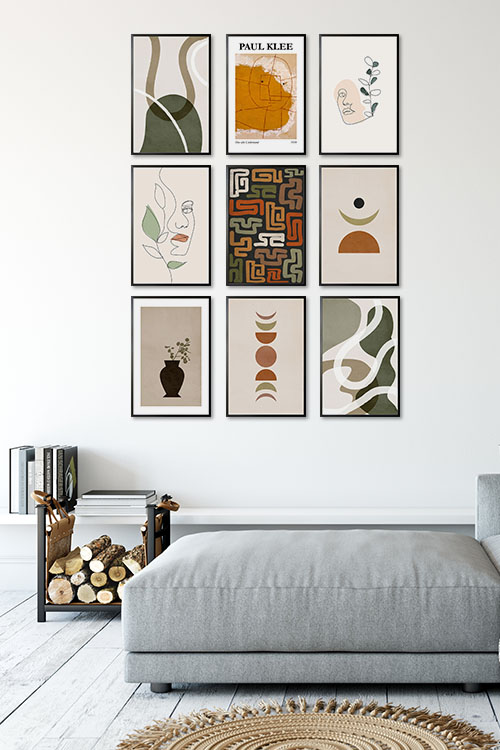 If you just started decorating your home, there is always that instance when you stare at your blank walls. Then you wonder how you can make it look different. If you want to have fun and give your room the vibe it deserves, then creating wall art is the best option. This may sound challenging but there are easy and creative ways to finish the project. In fact, there is no need to hire a professional to do the job. With your artistry and resourcefulness, you can finish a captivating wall art in no time. Here are some DIY wall art ideas that you can use to beautify your walls. 
DIY abstract poster
A large piece of abstract art usually comes with an expensive price. This somehow discourages homeowners who would rather go with cheaper wall decors. However, you can still create abstract art at a very minimal cost. With a few swirls of watercolor or poster paint on a canvas, you can create your own masterpiece. 
Cool wall gallery
Create a wall gallery with any decorative items that you have. If you have a collection of posters or photos, you can easily display them on the walls with any layout possible. White walls are easy to decorate and any decor can easily blend well. Posters and photos are easy to put together and they will create stories that you can share with your family and friends. It is also recommended to have these prints in frames for the effects that you will cherish. 
Style the walls with personalized prints
As they say, the choice of art reflects the personality of the owner. You can easily express yourself through the choice of poster designs displayed in your room. What is more exciting is that you can always create personalized prints if the available designs do not suit your taste. All you need to do is send a photo to be enhanced by the poster printing company. Choose the frame to complete the decor and have it displayed in any room. 
Feature your pets
If you are a fur parent, then nothing beats a captivating personalized pet portrait. With this wall decor, you can highlight your fur baby and easily create a focal point. As a result, you will be able to have a story to tell your guests and your loved ones. Check your phone gallery and choose the photos that you love and have them printed. Add frames to make them look more captivating. 
Jewelry art
Display jewelry or accessories as framed art. This DIY wall art project can be done with the use of affordable materials from garage sales or any flea market. Framed jewelry art can also feature some of your family's treasures. Needless to say, you can tell stories about them and make the wall more personalized. 
Embroidery wall art
We have seen many mothers and grandmothers do their embroideries or cross stitches. The beauty of these projects is that they appear like real paintings. Just like the ones mentioned above, these works of art can be framed and displayed in various layouts to create a personalized wall gallery.