Give Your Home A Retro Appearance
January 10, 2022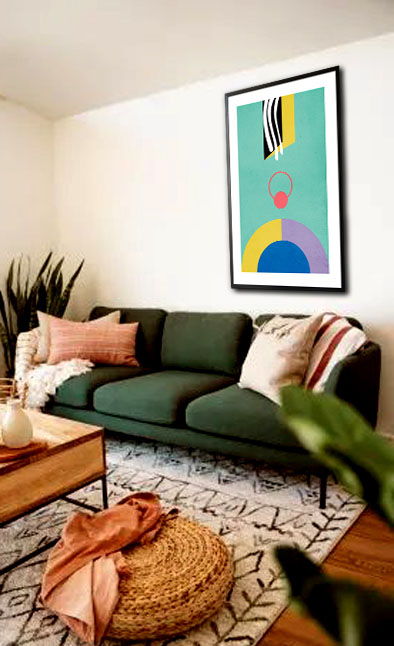 A retro style in decorating your home does not only focus on one aspect. It actually encompasses different decades of styles. These have been influenced by several trends and styles from the past. Although the term "retro" refers to something in the past, it actually describes the decor from the 1950s, 60s, and 70s. A retro design style has a fun and lively feel that is characterized by bright colors, wild designs, and an overall sense of flair. The retro design style requires a bold approach and likewise requires a certain personality to achieve it. Bring the design style to your home with the elements and inspiration below. 
Furniture
Furniture pieces in retro style have an abstract feel to them. It also seems like every piece is almost fighting to be the focal point of the room. The sofas are usually broad and elongated that are also decorated with multi-colored pillows. The materials used in barstools are usually shiny and metallic along with bright red seats. The retro design style is also complete when Mitt chairs and puzzle-piece ottomans are added.
Colors
Choosing the colors that help achieve the design style is not that hard. You can choose from avocado green, mustard yellow, brown, black, white, and red. The combination of purple and hot pink is great to achieve the style. You can also have mixes of bright orange, green, indigo blue, and yellow. The retro era is also popular for tie-dyed fabrics, checkered patterns, and elaborate paisley prints. 
Textures
Go retro with shag carpeting, smooth plastics, soft vinyl, and crushed velvet. When achieving the style, remember to go bold.
Accents and flooring
When it comes to decorating, there is actually no limit. Add accents and accessories like fuzzy throw rugs, door beads, lava lamps, skate tables, and scoop stools. It is also common to see bold and unusual art and sculptures. These pieces tend to be abstract in nature rather than simple still-life and landscapes. When it comes to flooring choose from natural wood, shag carpeting, and a bold mix of tiles. Placed in a checkerboard pattern. 
Lighting
Get the retro style with floor lamps and lamps with square or tasseled shades. You can also choose a swag multi-colored chandelier that plugs into a wall socket and feature a dangling cord draped from hook to hook. 
Final thoughts
The retro design style is fun and exciting. There's no doubt about that! It is all about the blending of shapes, textures, and colors. The furniture of the retro era is sturdy, durable, and functional. Achieving the design style is requires attention to detail and it is important to be versatile with the materials and decors available. Remember, anything goes, and do not tone down a retro-style decor.