Living Room Wall Decorating Ideas
February 18, 2021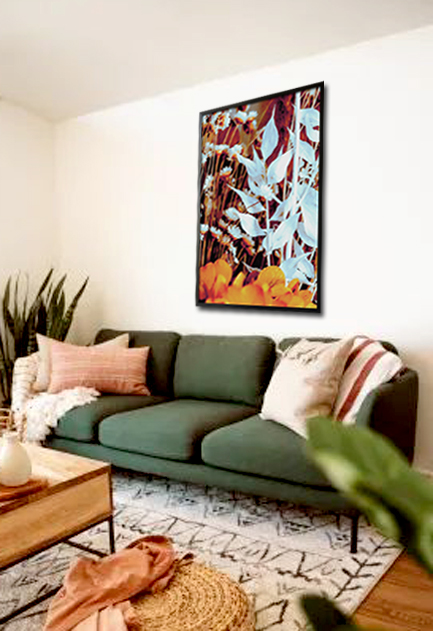 The living room can have different uses. The room can be used as a relaxation area, a sitting area, or a casual living space. It is a comfortable space where you can relax and be comfortable with your family and friends. Create a living room that is more fun and exciting by decorating the walls. Here, we will give you some ideas and inspirations on how to transform any dull and boring wall into something fun and vibrant.
Tips to decorate the living room walls
In many homes, the living room is the first to be seen after the main entrance. A room that is considered to be the common area where you can receive guests and bond with your family and friends. It is also a room for relaxing and just enjoying some "me time". It is therefore ideal to ensure that the room has a welcoming and inviting vibe.
There are different ways to create a wonderful living room. By designing or decorating the walls, you can easily achieve the appearance that you have been looking for. Wall design may have different appearances and you can use different materials to make the wall attractive. 
Here are simple tips that you can employ in decorating the walls of the living room:
Wall gallery – framed photographs in different sizes can be combined to create an impressive wall gallery. This wall art can evoke a sense of nostalgia especially when photos of your family and friends are featured.

Wall murals – the installation of murals is one of the innovative ways of decorating the walls. No need to worry about painting the walls as these wall coverings can do the job easily. They come in various designs such as images of nature, sceneries, art, and graffiti. 

Favorite collection – many of us have our interests. Collecting various items that spark our interests is one of the hobbies that is loved by many individuals. Many items can be collected and considered to be valuable, Examples are action figures, toys, travel posters, baseball caps, and old coins. Pick a spot in the room where you can display them with the help of installed shelves. The items can be arranged in such a way that they will draw the attention of the audience.
Poster art – the display of posters is one of the easiest and cost-efficient ways to decorate the walls. Poster prints come in a wide range of designs and can create a vibrant living room. Framed posters are even more fantastic as the color and appearance of the frames can add beauty to the prints. 

Mirrors – these are often used in the living room or any room for that matter to give an impression of a larger room. Mirrors are also used to reflect natural light into the living room for a brighter and warmer atmosphere. Mirrors that are framed with driftwood can evoke a log cabin experience. 
Final thoughts
Decorating the walls of the living room is one of the best makeovers that you can give your home. Discussed are easy-to-follow tips and inspirations for a more appealing room. The goal is to create a living room that will be enjoyed by your family and friends.