Personalize Your Home With Zodiac Prints
September 21, 2021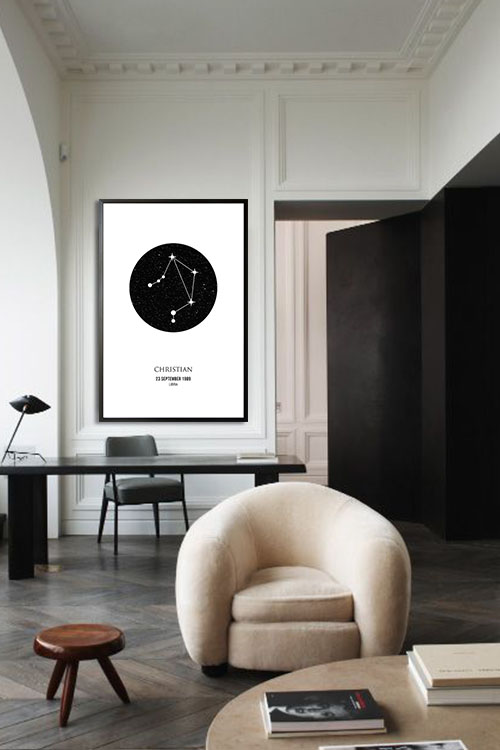 We all dream of having a room that gives us good vibes. In addition to a comfortable and cozy interior, we need a room that reflects our personality. One of the best ways to achieve this is with the use of zodiac prints. Read on to know more about the different zodiac signs and how they make your room more personal and look more fantastic. 
Decorating with zodiac signs
Personalizing your rooms can be done in different ways. Stunning zodiac posters can easily make your rooms look amazing. Moreover, these posters can personalize your rooms as each sign represent who you are. What makes the zodiac prints even more interesting is that they can be given to your loved ones as presents. There are times that looking for the right gift may be difficult and confusing. Make it easier for you and choose the poster that features the zodiac sign of your loved ones. These prints can be displayed in any room and can evoke a minimalist appearance that will be adored by anyone. 
Aries
Those who were born under the Aries sign are passionate and full of energy. They are also not intimidating. They are also attracted to the shades of red however, do not overuse red in the room as it can make you restless. Red can be paired with neutral colors such as black, white, and gray. 
Taurus
Taurus individuals are known to be calm, goal-oriented, and love working with their hands. They also love earthy things such as leafy plants and succulents. They are also fond of decorating their interior with greens and blues along with storage spaces for their personal belongings. It is also recommended to add a few picture frames and photos to personalize the rooms. This is because Taurus individuals are loyal and loving friends. 
Gemini
They are popular and loved individuals such that their room can be decorated and designed to be hangouts for their family and friends. Photos of your family and friends are recommended to decorate the walls. They are also calm and cool. As such, their rooms must include shades of light blue and white.
Cancer
For people who were born under the Cancer zodiac sign, their rooms are considered to be their sanctuary. They also enjoy simple things in life and without complications. The ambiance of the room should likewise be cozy and comfortable and decorated with silver or silver-colored items. 
Leo
These people are known for their jolly and outgoing personalities. Decorate your room with a personal inspirational board along with gold accents and glitter decals. The walls must also be in plain white with bright pieces to match the personality. 
Virgo
They are known for being ambitious, determined, and successful. It is also known that people who were born under this sign need a space where they can focus without any distractions. Thus, their rooms need to be organized and clean. It is also best to use cool colors such as forest green and shades of blue for more fun and interesting room atmosphere.
Libra
Strive to achieve balance in the room with art and beauty. Their rooms are filled with personal valuable items with accents. The following colors also look best in the room: shades of blue, green, and white. 
Scorpio
People who were born under Scorpio are known to be intense and driven in life. Typography and motivational prints are usually seen on the walls to keep them moving forward. The walls of their rooms are recommended to have white with gray colors along with light pink accents. 
Sagittarius
Sagittarius is known for their go-getter attitude. They also have cheerful and friendly personalities with a strong urge to travel around the world. Their rooms must likewise have the colors dark purple bright pink, black, and dark blues.