Rose Posters For A Romantic Ambiance
April 26, 2021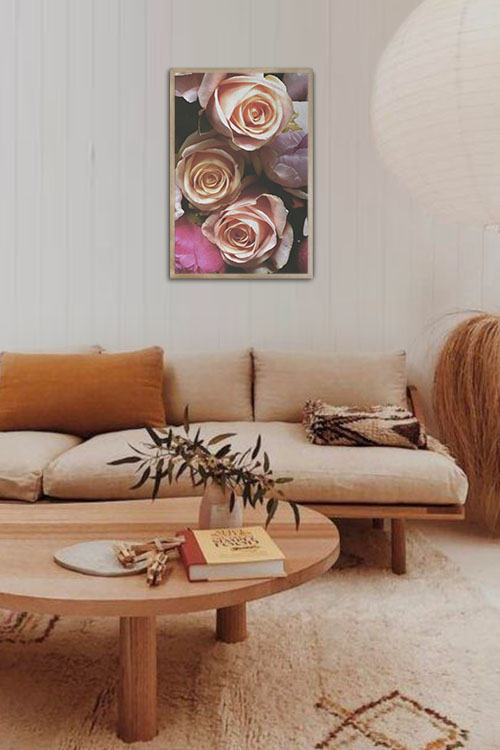 As language is important to communicate with others, so are roses as they represent many wonderful things. Create a romantic ambiance in your rooms with rose posters and fall in love again. Posters of roses will also add color and life to your homes. With these posters displayed in the living room or bedroom, you will have a vibrant and lovely room interior that you will truly adore.
Lonely homes with rose prints
Over the years, homeowners and designers have been continuously searching and creating for ways to decorate the rooms. The right decor can surely make any living space look appealing and interesting. In the past, walls were simply colored with paint. However, these days, different wall decors are used to create a compelling wall art. 
Posters can easily create a theme and make the room attractive. In artdesign, we offer the right poster design that will boost the wall design. One of the themes that will make the necessary transformation are floral prints. Rose posters, in particular, are not only attractive. They also have meanings that are appropriate for special occasions or even during ordinary days. 
Rose posters that are printed in natural colors give a refreshing look to any room. Black and white prints, on the other hand, can give a classic appeal that will be loved by all ages. Rose posters displayed in the dining room can likewise add a romantic ambiance. A perfect view for a candle light dinner with your loved ones.
Make your home look more attractive and interesting with rose posters. Maybe this is the look you want if you are planning to propose to your fiancè. Light candles and prepare a special meal for your loved one and pop up the question anytime. 
Prepare your home for Mother's Day with rose posters. Get a bouquet of roses for your mother and prepare her favorite dish.  A simple yet extraordinary celebration for one of the special persons in the world. 
Roses and their meanings
Roses are some of the most fragrant flowers on earth. They also come in different colors that correspond to meanings as well. The "language of roses", as they call it. Giving a bouquet of roses is not just about giving flowers. Every color of roses symbolizes something. 
Over the years, red roses have been known to be an expression of love and deep emotions. The color is also used to convey respect, admiration, and devotion. A dozen red roses also send messages of "Be mine" and "I love you". White roses, on the other hand, express new beginnings, sympathy, and humility. Yellow roses mean exuberance, joy, warmth, welcome, friendship, and caring. Pink roses express gentle emotions, admiration, joy, gratitude. Lastly, blue roses may express "I can't have you but I can't stop thinking about you."
Final thoughts
The next time you give somebody roses, think about the message you want to deliver. The different colors represent feelings and emotions. You do not want to give the wrong message, of course. Rose posters are fun to use. They do not only convey the correct message, they can also do wonders to the overall appearance of your home. Decorate your walls to your heart's content and the outcome of your project will surely be admired by your family and friends.