The Beauty Of Adding Art Wall
May 6, 2023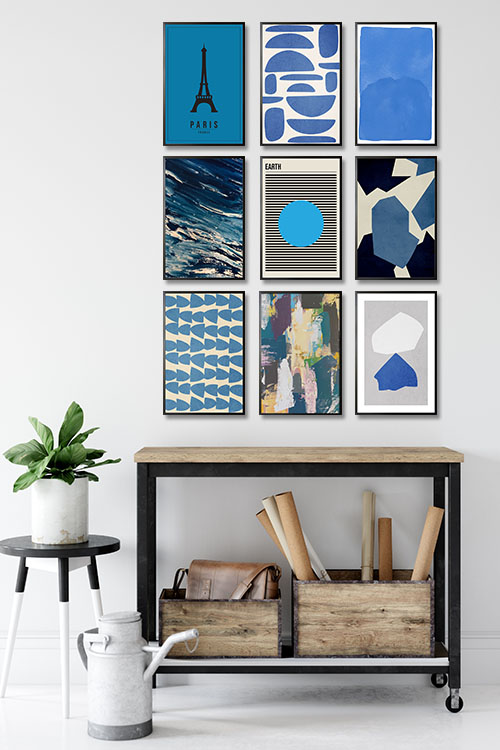 Art walls are the interior design element that can help complete the overall appearance of a space. This may appear simple yet they can be functional in terms of creating a focal point and adding life to any room or space. In artdesign.ph, we have trendy posters that can help achieve the desired wall appearance. We have the art that can give every home the treatment to achieve the interior design style that you plan.
The importance of art wall
Living in a room or space with plain-colored walls is dull and boring. Ask anyone and this may feel like living in a prison cell or a sanitarium. We do not want that to happen to anyone and there are many art wall inspirations that you can do to add life to any room. Art walls are usually treated as an afterthought in interior design.
In many instances, the wall is dealt with after the paint has dried and all the furnishings have been fixed in their appropriate places. However, untreated walls can have a great impact on the overall room appearance. Without the art wall, you will be missing amazing design opportunities. Art walls can transform the room or space into something with a kick.
Add life to your home with an art wall
Many experts believe that the decor of your home reflects your personality. This is one of the main reasons why many owners and designers decorate their rooms or space with different attractive items. Decorating the wall, for instance, need not be complicated and expensive. Posters can instantly transform the overall wall appearance as well as set the mood or atmosphere in any room. 
Displaying poster prints from the collection of artdesign is one of the easiest and most affordable ways to make any room or space look impressive. We have different trendy art that can help you save money and allocate them to different projects. Creating your art wall can unleash your creativity and resourcefulness. 
Art wall with trendy and personalized posters
Posters come in different appearances. In artdesign.ph, we have a wide range of poster collections that can help every homeowner or designer achieve the interior design style they love. With poster art, creating your wall art has never been easy. Our posters are simply attractive and easy to display. With hanging solutions and gorgeous frames, creating a wall gallery will be fun and exciting.
Creating a room theme that is perfect for all occasions will also be possible with the posters from our collection. Not only that they will create a room focal point the posters will also help achieve the right interior design style.  
A collection of Abstract art, Bohemian-themed, or Black and White posters can easily make the magical transformation. Plain-colored walls will never be the same with these posters displayed. Arrange them creatively to have your wall gallery. As such, wall art can bring some character and personality to your living space. 
Instead of using wallpaper or paint, you can create interesting and enticing wall art for a feature wall. This can easily be added to any room. Though there are popular and favorite areas such as the living room, hallway, or bedroom.